One of the stories by Jean Lorrain that I've translated over the years is La Mandragore (The Mandrake).
Recently I put a couple of images on a unique Facebook page, The Golden Age of Illustration. My contribution was from the original illustrated version of 1899 of La Mandragore, and got hundreds of 'reactions', as they're called on that site. And my reaction to these reactions was total surprise, for over the years I've put a number of posts on Facebook without much response. But for this post, once I'd noticed the rising count of 'likes' and comments, I provided a link to my translation, which was daring since it's a web page only about images. A couple of people actually clicked on the link to The Mandrake which is freely available in The Belmont Story Review. And they read it. And liked it.
One reader said: A powerful tale! I was so taken with your translation of the story that I screen shot the pages with my phone so I could read it over and over.
Another said: Thanks so much for sharing this. I loved it! Merci beaucoup.
Back in 2016 when I sent the story to a couple of journals, the response was equally positive. One editor loved it so much that he fiddled with it for a whole weekend, believing he could make it even better, to my dismay. A second publisher said that after reading the story, it stayed with him all day. And he wanted to change absolutely nothing. So I chose him to publish The Mandrake.
It originally appeared in French as La Mandragore in a beautifully illustrated book. Fortunately for us today, the illustrations are available online at Gallica and can be viewed here.
For a taste of these delicious images, here is the opening page of the story: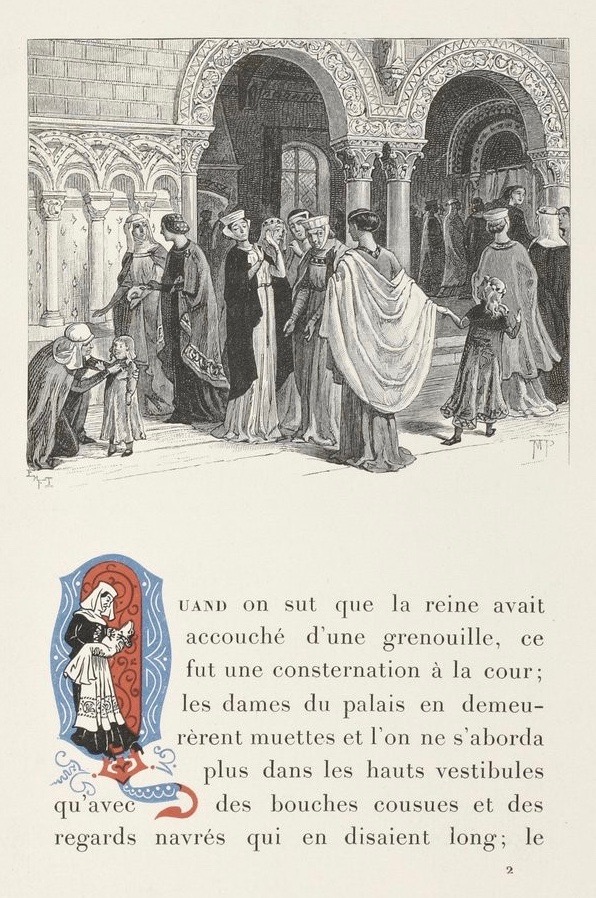 Note the opening letter Q (for Quand/When). A midwife holds a baby in the form of a frog, for although the Queen had produced a handsome son in earlier years, she has now produced a daughter that is not a human but a frog. And everyone in the court is disturbed and gossiping about it.
Please check out these illustrations if you read the English version. You'll be pleased you did. Ideally I could get them published with my translation in the one book! I just have to find out how to purchase them. And then find a publisher. Two very difficult tasks, but not impossible.
*