In 2015 and 2016 I had two translated stories published by an online journal, The Brooklyn Rail, in its inTranslation section. This week I was thinking of submitting a new translation to them and went off to read the journal to see if my work would still be a good fit. But they no longer have an inTranslation section, and, worse, the translations published for many years online have been removed.
A little Internet surf taught me that I might find archives of the inTranslation section on the Wayback Machine, a website that archives defunct online journals. A quick search revealed the section has indeed been archived, and a further search got me to my archived stories. The Wayback Machine, according to its Wikipedia page, allows users to travel back in time to see websites from the past. The developers have been archiving copies of defunct web pages so we can continue to access "all knowledge", a great ambition.
The first of my translations published by The Brooklyn Rail was "Madame Gorgibus" by Jean Lorrain, which has since been republished in a collection, Stories to Read by Candlelight. But I'm very pleased that the second story was archived, otherwise "The Only Beautiful Woman", originally by Catulle Mendès, would now be invisible. Click on the link and scroll down to the 6th story on the page.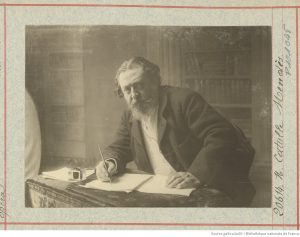 It's a fairy tale with no fairies, but it does have a selfish princess, a super prince, and a woman more beautiful than all fairies. (There's also an elephant…) The super prince is from Trebizond, once a real place, a small empire that existed from 1204 to 1461, occupying a spot on the southern coast of the Black Sea in what is now Türkiye. A the end of the 19th century Trebizond had the magic of an exotic Oriental land that appealed to turn-of-the-century writers.
I hope you too can find the story on the Wayback Machine. Let me know if you read it.
***