'The Ragpicker', my translation of 'La Chiffonnière' by Théodore de Banville, has just been published today in The AALITRA Review, a peer-reviewed online journal published by The Australian Association for Literary Translation. I found it in a collection by Banville, Contes féeriques (Faeric Tales). The first time I read 'La Chiffonnière' (for I read it a hundred times during the translation process…) I loved it and could imagine the whole set of events playing out. The main character, a poet, is offered a magical opportunity to have any wish granted as long as it's for himself alone. Read it in English and find out how he responds!
I learn a lot by translating old French texts, and from this work I learnt about ragpickers. They were men and women (in this case, a woman) whose employment was picking up rags and rubbish off the city streets (in this case, Paris) and selling them to be recycled, for example to be turned into paper and cardboard. They were the 19th-century refuse collectors who kept the streets reasonably clean, but they were also on the lowest rung of the working class and were often despised.
The city's employment of ragpickers was one way of collecting and dealing with its rubbish, a challenge we still face today. The only difference between the ragpickers and today's refuse collectors is their visibility. While we rarely see the drivers of our rubbish trucks, the old ragpickers were well-known in the city, were easily recognisable and were sometimes targeted by bullies.
So, what would a poet do if he saw a ragpicker being bullied? He would imagine her transforming, in his arms, into something beautiful…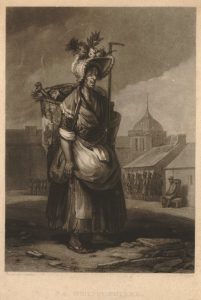 ***